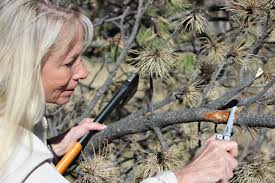 Pruning is the most common tree maintenance procedure. This will depend on the range of why you should prune. If it is just light pruning or you just want to remove some dead branches, then do it any time of the year. But for most cases, you will have to consider the season for the safety and health of your trees.
Is it OK to prune trees in the winter?
You can prune trees in the winter. It is the most common time to prune trees as trees are dormant. When spring comes, trees are more robust and will have plenty of new growth. To be more effective in tree pruning, wait until the coldest time of the winter has passed.
You can also prune in the summer, but mostly the reason for pruning is to slow the growth of the branches you don't want or to slow the development of the tree or branch. Another reason why some prune their trees in the summer is they want to correct the growth of the tree.
When not to prune?
Among the four seasons, it is not recommended to prune during the fall. Better store your pruning tools in your garage and wait for the next season since decay spread more rapidly during fall and wounds are seemed slower to heal during that time.
If you are still confused about whether your tree needs pruning to ask a professional arborist for help. Certain trees may be better to be pruned for a specific season and your arborist will give you a better understanding of your trees are ready for it.